Back to Support
Keep iTunes clean with iTunes Duplicates Cleaner
If you've been using iTunes for a while, you've probably encoutered a few things in your iTunes library that look like music songs, but when you click on it, iTunes can't find that file, or same song gets several copies. If you've got hundreds of duplicates on your computer, you probably don't want to go through each of them trying to figure out which duplicates to keep, and which to delete.
iTunes Duplicates Cleaner is the fastest and easiest iTunes duplicate remover program for Mac. With its 3 clicks process, iTunes Duplicates Cleaner sniffs out and marks the bad duplicates for deletion. In less than one minute you can have thousands of duplicates cleaned and removed from your iTunes library.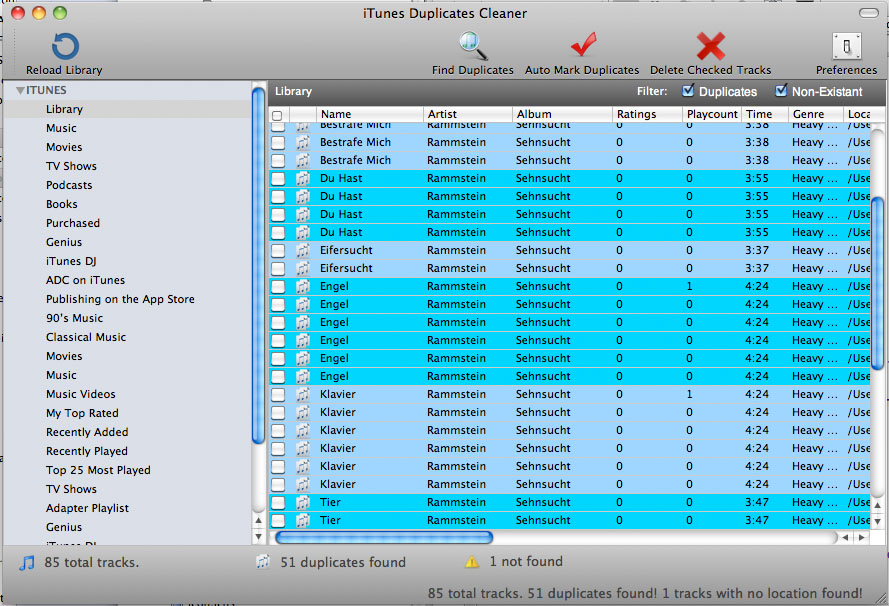 Following these 3 steps to clean up duplicates:
After open iTunes Duplicates Cleaner, click "Find Duplicates" button to sorting duplicates and group the dupes
Click "Auto Mark Duplicates" to check tracks to be deleted which adapt to user-defined conditions
Click "Delete Checked Tracks" to clean up iTunes duplicates
iTunes Duplicates Cleaner looks at things such as how many times the tracks have been played, whether or not the tracks are rated and then marks the ones that are best to delete so that in one fell swoop you can take out all the trash.
For safety consideration, there is option in iTunes Duplicates Cleaner to move all tracks for deletion to Trash, which allows you to get the tracks back if it's necessary.
Back to Support